Evaporative vs Refrigerated Cooling – Which is Best for My Business?
Perth Air & Power Solutions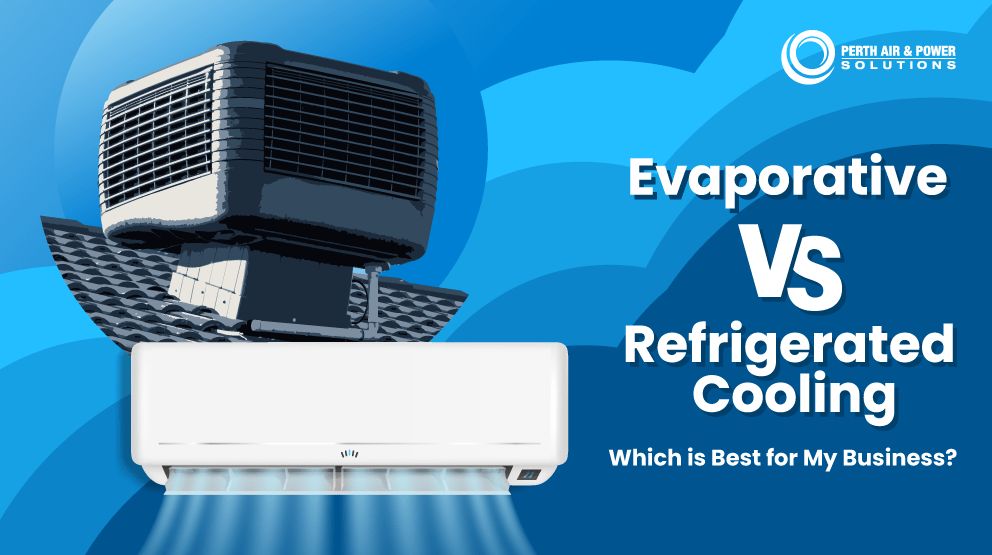 With Perth's summers being as long and hot as they are, it's a bit of a no-brainer when it comes to whether or not your business will require air conditioning. Extended periods reaching into the high 30's and beyond are not conducive to productive working environments, so there is a good chance your air conditioner will get significant use. Given the scale of such an investment, it is therefore quite important that you choose the system that best suits your business's needs.
When looking to manage the inside temperature of your workspace, it is a toss up between two types of air conditioning systems—evaporative vs refrigerated. They each have their pros and cons so let's go through and compare the two.
Refrigerated air conditioners work by using low-pressure evaporator coils to change hot air into cool air by absorbing heat as it changes liquid into gas. To maintain cooling efficiency, the gas is then turned back into a liquid. This type of system is also referred to as 'reverse cycle', and works on the same principle as the wall-mounted units that are common among living spaces. Ducted refrigerated air conditioning systems are essentially the same thing but on a larger scale, and distributed to individual rooms from a central unit via a conduit system.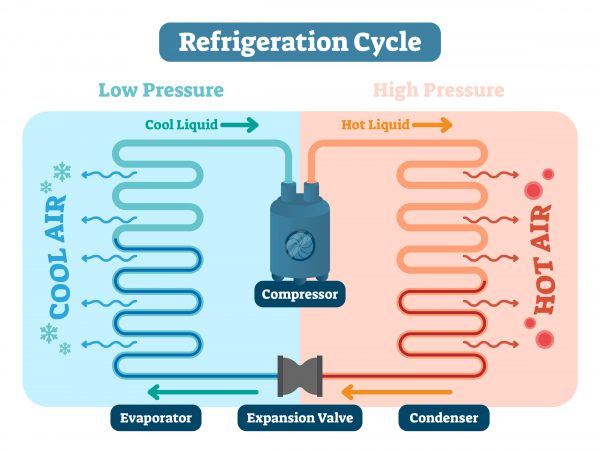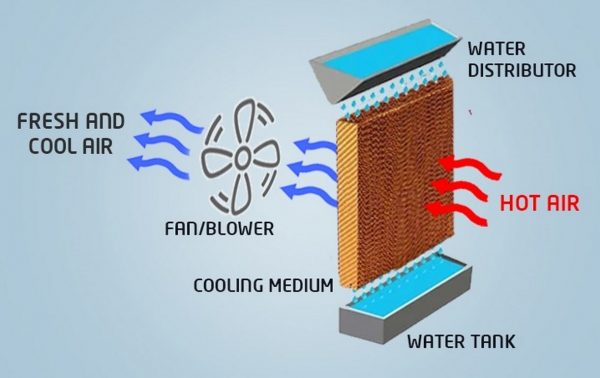 Evaporative air conditioners use a different principle. Instead, hot and dry outside air is drawn through water soaked filter pads. As the air is pushed through these pads, the water evaporates and the heat in the air is absorbed, which lowers the air temperature. A fan then pushes the cool air throughout the house via a network of ducts.
As you can see, they both share ducting systems, however the central units work on entirely different principles.
Cooling effectiveness
The most obvious question when comparing evaporative vs refrigerated cooling is how well they cool the air.
The answer to this is pretty simple: refrigerated systems are more effective when it comes to delivering cooler air. They offer the user much greater control in setting desired air temperature, making them ideal in situations where a specific indoor climate is required. They can even control room temperatures individually from one another which makes them extremely versatile.
Evaporative coolers, on the other hand, are less controllable. Rather than setting the air temperature, the only thing that can be adjusted is the fan speed. They are also susceptible to outside weather conditions. The optimal outside condition for evaporative cooling units is hot and dry, so when it gets humid, they tend not to work as well. They are, however, quite effective at cooling entire spaces. The temperatures across all rooms that are cooled by an evaporative system will be consistent across the board without too much deviation, even in more isolated spots.
Running cost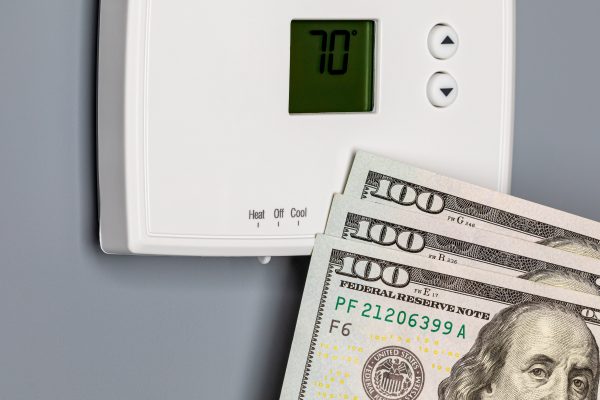 Refrigerated air conditioning may be more effective in achieving cooler inside temperatures, but this does come at a cost. They use more energy to run than evaporative air conditioning units, so the power bills will be higher as a result.
Evaporative cooling systems can, however, require additional maintenance. It is generally recommended they be serviced every year, particularly because the filter pads can deteriorate. Additionally, if there is a malfunction, it can lead to excess water use which can go unnoticed until the next water bill arrives, which is why it is important to get your evaporative unit serviced regularly. However, evaporative cooling systems ultimately use less power which will result in a lower utility bill. 
These factors are all worth taking into consideration when weighing up between evaporative vs refrigerated cooling, but by and large, evaporative units tend to be cheaper to run overall.
Installation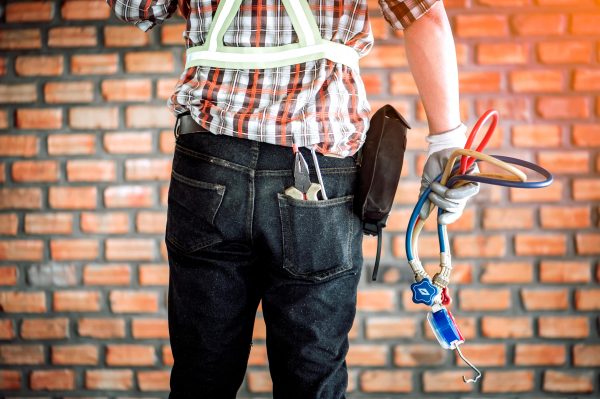 Both systems involve a fairly significant installation process. Both require the ducting network, however, the installation of the central unit varies between refrigerated and evaporative systems.
Refrigerated cooling systems require space for the outdoor condenser unit. These are often situated in the roof cavity, but if that is not possible, then a low-traffic area outside the building may be the best option. If they can be installed in the roof cavity then this makes for an aesthetically pleasing system, with most of the equipment being out of sight. 
The main unit for evaporative systems is located on the roof, as it needs access to outdoor air. 
Always reach out to a professional to get your new air conditioning unit installed properly. 
What is the verdict?
Unlike most homes, commercial air conditioning requires consistent air temperature control. As an employer, you are responsible for ensuring a comfortable working environment for your employees, and refrigerated air conditioning units are far more reliable for this purpose. If, on the other hand, your business is less dependent on a controllable indoor climate, and may instead benefit more from reduced running costs, then an evaporative system might be more suitable. 
Here at Perth Air & Power Solutions, we provide a wide range of air conditioning units, both evaporative and refrigerated, in various unit sizes. We are able to provide you with professional advice in regards to which option will be the best for your commercial space. For more information on installation, maintenance and servicing, call us on (08) 9243 8572 or email us at jason@perthairandpowersolutions.com.au.
MORE ARTICLES
FOR YOUR BRAIN