How To Efficiently Run Air Conditioning In The Office
Perth Air & Power Solutions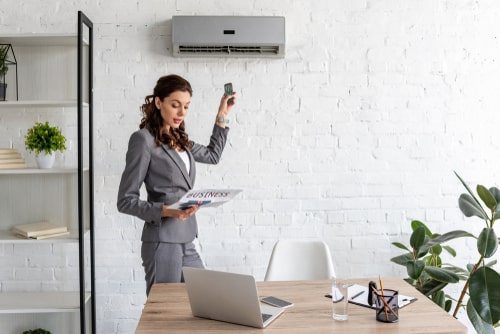 Whether you're looking to reduce costs in your workplace, lessen your environmental footprint, or make your office space as comfortable as it can be, how you run the air conditioning can make a big difference. 
Power bills are often a huge cost for any workplace, and air conditioning can appear to be a big contributor, especially in commercial spaces – but the good news is, there are ways to combat the high price, without compromising on comfort. Here's how to efficiently run office air conditioning.
Regular services and maintenance 
It's vital that an air conditioning unit is working to its full capacity. This will ensure that the office space remains at a comfortable temperature, encouraging productivity. In addition, if an air conditioner is in need of a service, repairs or maintenance, it can rack up high costs without offering the effective function you're using it for. Make sure you book in for regular services, to ensure your AC is running in top condition, saving you money in the long run. 
Commercial air conditioning repairs, when needed, are essential to the longevity of your air conditioning system, and to efficient air-con use. 
Reduce unnecessary use
It can be easy to forget that the AC is running, and therefore it's easy to forget to turn it off at the end of the day, leading to precious dollars being added to your energy bill overnight. Consider programming timers on your commercial air conditioning, so that you can choose when it switches off – meaning it will no longer accidentally remain on all night. 
You might find that the air conditioner stays on because of habit rather than necessity. Identify times that the office doesn't benefit from the AC being on, and switch it off. For example, in between seasons, you may not need the AC on first thing in the morning, or in the afternoon. Make the call, and turn it off if it's unnecessary. 
Adjust use throughout the seasons 
As the seasons change, so too should your air conditioning settings. Make sure you adjust as the temperature outside does. If your office uses air conditioning year-round, pay attention to what temperature is needed on a daily basis. You shouldn't still have the air con set to summer temperatures in May, with all the people in the office huddled under jumpers at their desks. 
When the outside temperatures soar during the summer months it can be so tempting to crank up the air con (lowering the thermostat) for a nice icy office. But if you maintain a constant, middle temperature, you will find you're more comfortable overall, and it will further reduce your bill. Rather than freezing half the office and having to switch the AC off regularly when it gets too cool, it's a good idea to consider programming the unit to switch on a few minutes before everyone arrives in the morning, and run it at a constant, comfortable temperature (for example, from 21-23°C) all day, or as long as necessary. This is much more efficient than running the air con at 17°C, and making half the office freeze by mid-morning. The same applies for air con use during winter, too. 
If your office has reduced staff at any stage throughout the year, for example during periods of working from home, you can likely adjust your air conditioning to suit. If many bodies are packing the office, the space may feel warmer, and therefore the air conditioning is necessary. But if there are only a few people at their desks, the air conditioning may not be needed. 
Benefits of efficient AC use
As we've seen, by using the office air conditioning efficiently and thoughtfully, it can reduce the high costs of the workplace energy bill – meaning fewer overheads, and more money in the business. We can't think of a single workplace that wouldn't benefit from decreasing their outgoing costs, and efficient air conditioning use is a great place to start. 
Another great incentive to ensure the AC use in your office is efficient is the reduction of your environmental footprint. Minimising unnecessary energy use, setting the thermostat to a comfortable temperature for the season and scheduling regular services will all contribute to a smaller environmental footprint for your office – a huge win for the workplace, and the planet. 
Other tips
Close off doors to empty areas of the office, and use the zoning function of your air conditioning unit if it has one. This will ensure the air con is focused on the rooms it's actually needed, and not being wasted on cooling or heating unused areas of the workplace. 
Pay attention to the energy star rating of your air conditioning system. If it's time for an upgrade or a new unit, energy consumption ratings should help guide your decision in choosing your next air conditioning system. Upgrading to a newer, more efficient air conditioning unit can save you big money in the long run, and ensure you're getting the most out of your air con. 
The office doesn't have to compromise on comfort in order to save some money and have more efficient air conditioning use. A productive office space is one that is not too hot and not too cold, so set temperatures to a pleasant middle ground, which will likely suit everyone in the office. Air conditioning units should be regularly serviced to ensure they are running in top condition. 
Give us a call today
Perth Air & Power Solutions can help you with all your air conditioning needs, including servicing, maintenance or installing a new unit. If you need help with your commercial air conditioning in Perth, reach out to our air conditioning experts today, and start saving money on your electricity bills.

MORE ARTICLES
FOR YOUR BRAIN